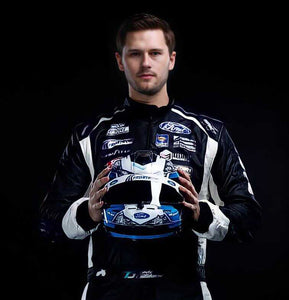 About Todd
Starting his professional career in 2016, Todd won the NASCAR K&N Pro Series West Championship driving for Bill McAnally Racing. He followed up his efforts the following year, earning back-to-back Championship honors.
In 50 career NASCAR K&N Pro Series starts, Todd has visited victory lane 20 times.
Todd made his NASCAR Camping World Truck Series debut in 2017, where he picked up six races with Kyle Busch Motorsports, earning three top 10's that year. In 2018, he ran 19 of 23 race where he earned four top-five and nine top-10 finishes.
Gilliland collected his first Truck Series victory in 2019 at Martinsville Speedway. He joined Front Row Motorsports for the 2020 season and achieved four top-five and 10 top-10 finishes with the new team and made the Playoffs for the first time in his career.
Returning in 2021 for a 2nd year venture in the Camping World Truck series with Front Row Motorsports Todd recorded a career best season with 1 win, 10 top 5's, 16 top 10's with 359 laps lead out of 22 races. He made the playoffs for a second consecutive year.
In 2022 Todd will compete for rookie of the year in the NASCAR Cup Series in the number 38 Ford Mustang for Front Row Motorsports.